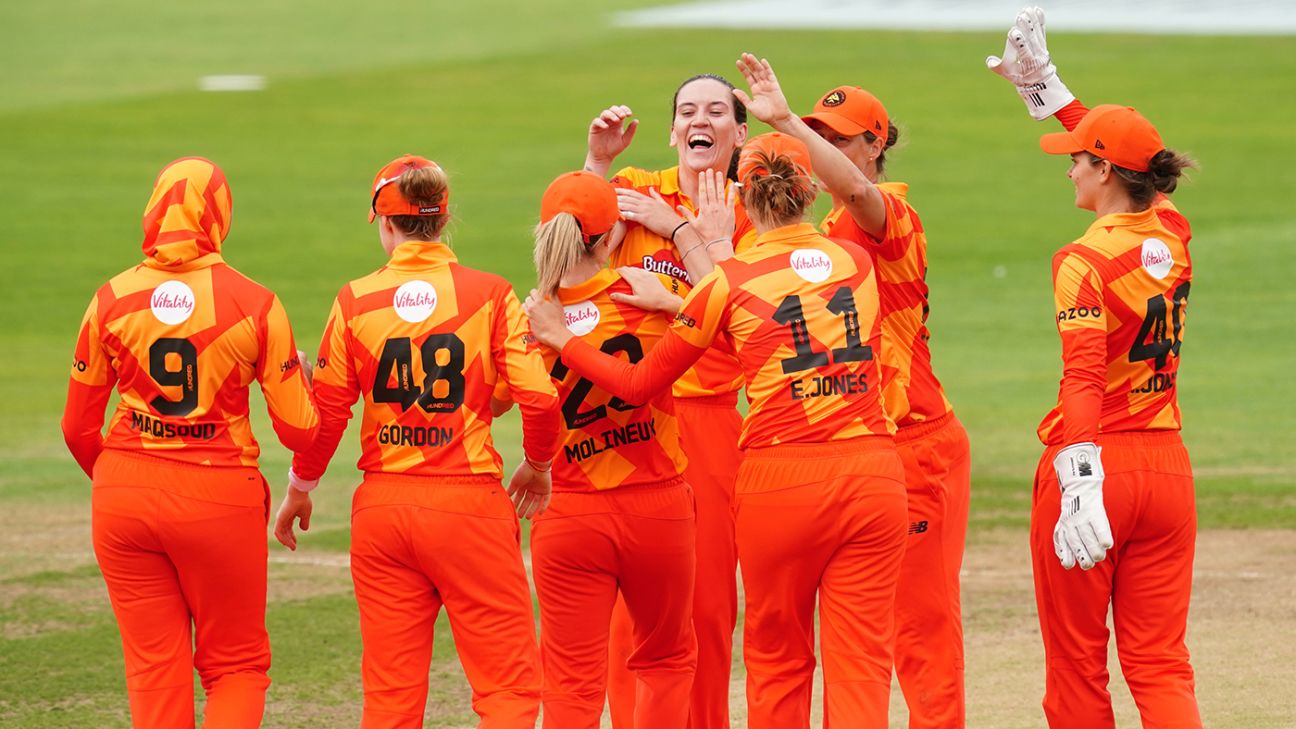 birmingham phoenix 117-for-2 (Jones 44*, Perry 39*) beat Trent Rockets 116-for-9 (Villani 33, Sciver 31, Arlott 3-19) by eight wickets
Birmingham Phoenix cruised to an eight-wicket victory over Trent Rockets at Edgbaston after a stunning visitors collapse that saw them drop from 70-for-1 to an under-par total of 116-for-9.
Emily Arlott was the bowlers' choice, claiming 3 of 19, including captain Nat Sciver's key scalp, and was ably supported by Georgia Elwiss and Sophie Molineux, who picked up two wickets apiece for the home team.
The Rockets never seemed to have an answer for Phoenix's all-around bowling brilliance, with all but three batsmen failing to post double-digit scores.
Phoenix then raced home with the bat in response, Amy Jones and Ellyse Perry posting unbeaten 44 and 39 respectively to secure an undefeated start to the season for Phoenix.
Rockets initially struggled to find any kind of momentum in their innings. Molineux's first set of 10 deliveries cost him just six runs inside the power play and included Bryony Smith's wicket for 1, leaving the visitors reeling at 1 for 1.
Sciver, making his first Hundred appearance in 2022, and Elyse Villani were able to build a solid foundation, leading the Rockets to 70-for-1 thanks to their half-century partnership. However, it was a partnership of stability rather than intent, and when Villani holed out Perry at the end of Elwiss's bowling, it ushered in a miserable collapse for the visiting team.
Sciver departed soon after to execute an unusually quiet run-a-ball 31, before foreign star Mignon du Preez hooked an Issy Wong short ball directly into the hands of Gwen Davies for just 2. Only Kathryn Bryce, No.10 of the Rockets, was able to post double figures as the visitors collapsed to a par 116 under 9.
Phoenix didn't exactly respond to a flyer, but they didn't need to with such a low total to chase. Sophie Devine holed out trying to line up Sciver and went for 16, while Eve Jones went for 11 shortly after, but everything was smooth sailing from then on. No real risks were required, and Perry and Amy Jones were able to manipulate the field and pick up singles for much of the middle of the innings.
Amy Jones, in particular, was looking good, as she racked up 44 of 32 deliveries. A succession of glorious shots from England's Sarah Glenn flew off the bat and over the bounding rope for four to bring her team within arm's reach of victory. The second, a past reverse-paddle point, stood out as a moment of brilliance in a largely danger-free chase, as she and Perry accelerated in death to see them cross the line with nine balls to spare.
Not even last week's hat-trick hero, Alana King, could provide enough magical stardust to successfully defend the total the Rockets had achieved earlier. Glenn and Katherine Brunt also couldn't find that important breakthrough, both ending up wicketless because Phoenix simply proved too difficult to handle.